To contrast with last week's two beautiful days in the park, picnicking in the sunshine, this week will start off with a blast of wind. Due to the high winds forecast over 30km/hr, on Monday, LEAP classes will be learning at Fort Langley Elementary.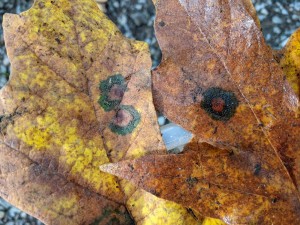 Last week we found these big leaf maple leaves with fungus growing on them in the shape of the letters S and O! Nature is amazing! Woolly bear discoveries led to a science lesson on asking good questions and being curious.
The week at a glance: October 25-29
Monday – At Fort Langley Elementary due to wind. Guest educators from LEPS will present Salmon Forest.
Tuesday – Pumpkin Day at the park! Wear boots and rain pants. We'll visit the farm, then do pumpkin exploration stations.
Wednesday – At FLE.
Thursday – At FLE. Library book exchange, "Fun lunch"
Friday – At FLE. Halloween Costume day. We'll have a fun day of costume parade, games and crafts! No treats for sharing, please (school Covid-19 rule).