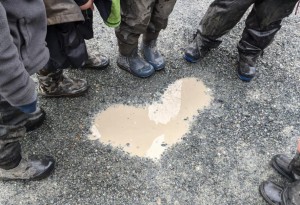 Last week was a wet and wonderful time floating boats and playing in the sand. The kids even found a heart-shaped mud puddle – that says it all!
The week ahead: January 24-28
This week, we'll get used to a new outdoor classroom by exploring and playing a lot. In literacy, we are learning about rhyming word families and beginning a unit on dramatic storytelling with one of my favourites: The Mitten by Jan Brett. Our 'Tugboats on the Fraser' art is going up on display at the Fort Post Office on Wednesday this week. Check it out all month!
Monday – New park! Please be prompt at leaving the drop-off/pick-up area so we can share the space with the Forest School. If you want to stay later, you can park in the overflow lot by the park gates.
Tuesday – Park. Story walk.
Wednesday – At FLE. Home reading book exchange.
Thursday – At FLE. Library book exchange.
Friday – At FLE. Polka Dot Day (I thought it was last Friday, so we get to try it again!)