The eyed eggs have hatched into alevin! We all got a chance to peek on the new baby fish.
The year of the tiger was celebrated with a dragon puppet parade at the park and the opening of our Dim Sum Restaurant.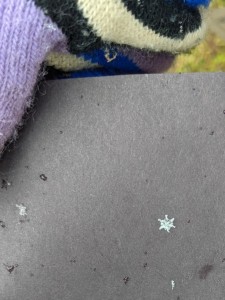 The snow fall was brief but special as each flake was visible as a unique crystal.
Jamoka the turtle came for a visit, thanks to our Art teacher for teaching about turtle care.
The week ahead: Feb. 7-11
Monday & Tuesday – Olympics have begun! There is so much to learn about the sports and the motto – "Stronger, Higher, Faster, Together" of the Olympics. We'll come together for our own torch relay and play some 'west coast curling' with rocks at the park.
Wednesday – Home reading book exchange. Heart art.
Thursday – Library book exchange.
Friday – No school for students – Professional Development Day.
Monday, Feb. 14 – We'll celebrate friendship with Valentine's Day at the park. Students are welcome to bring cards for their friends but no food products allowed.