The first week of spring term was super packed with adventure and learning! Students are loving the variety of the new park; exploring and playing in different habitats like forest, field and pond. So far, we've made letters from the fallen alder flowers, investigated scat and tracks of animals on the trails and made habitats for our toy creatures.
Back at school, it was surprising to see our spuds have sprouted! We observed Mason bees in their cocoons and hope to see them out pollinating our garden this week.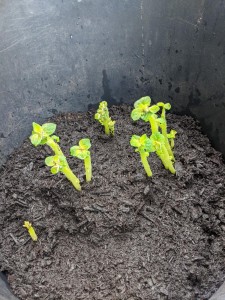 Grouse Mountain field trip was an awesome, exciting experience! Thank you to our parent helpers who strapped on and off a zillion snowshoes and helped keep our group safe. We enjoyed learning about barn owls, First Nations stories and dances, and mountain wildlife like Grouse and Grizzlies. The bus ride was a highlight for many.
After enjoying the snowy trails of Grouse Mountain last week, we're shifting to learning about water this week, beginning with a presentation from LEPS (Langley Environmental Partners Society) at the park. Students will learn about the water cycle, where our drinking water comes from and where it goes. When we really think about how water connects all living things, we begin to realize that every drop counts!
The week at a glance: April 4-8
Monday – at the park. Water, water everywhere with LEPS.
Tuesday – at the park. Water investigations continue.
Wednesday – at FLE. Home reading exchange, bring a stuffed animal to school this week for our vet play centre.
Thursday – at FLE. Library.
Friday – at the park.