Last Friday, we hiked across the park. It was a lightbulb moment for some students to actually see what an island really is!
I hope you all got to see their poems, "I Knew it was Spring" which were sent home on Friday. They worked hard on those! (Absent students can finish up this week)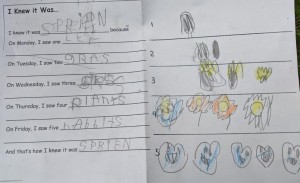 Kindergartens are now working on sight words. These are small, common words that may not follow 'sound it out' rules but make reading flow smoother once they are quickly recognized. They may (hopefully) be noticing and pointing them out in books and print around them.
At our new outdoor location, we'll have opportunities to pond dip and bug hunt! Students may bring a small net along – nothing giant as the goal is to tune into the small things – tadpoles, mayflies, dragonfly larvae, etc. We are working on slowing down and observing closely to see features such as legs, antennae, body sections, wings and eyes. 
This week, we also will continue looking at community and careers. We will go for a walk on Thursday morning around Fort Langley to find some important places.
The week at a glance: May 30 – June 3
Monday/Tuesday: At the new park.
Thursday: At FLE. Home reading book exchange. Community walk in the morning (9:45-12:00)
Friday: At the park.