We are making collections of interesting natural objects for journaling. Students use their 4 senses to notice, describe and draw them in detail.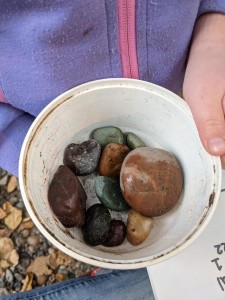 The week ahead: October 24-28
Monday – at the park. Pumpkin activities. Wear rain gear and warm layers!
Tuesday – at the park. More pumpkin and fall activities!
Wednesday – at FLE. Send money for cookie day if you want to.
Thursday – at FLE. Library book exchange. Cookie Day.
Friday – at the park.
Monday, Oct. 31 – at FLE for Halloween activities. Students are welcome to wear or bring costumes (no weapons, masks). Please keep candy to a minimum in lunches. We will have a costume parade and fun Halloween crafts and games.