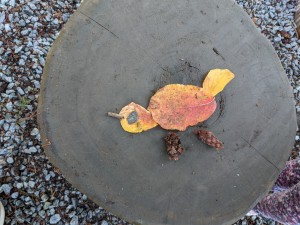 Students had a great time exploring the new park location and creating critters with leaves outside. In the gym this week, they got to learn hip-hop dance routines with Jess Dance. I hope they can show you their moves!
The week ahead: November 7-11
Monday/Tuesday – although scheduled at the park, I've come down with something this weekend and will be staying home until I'm feeling well. Kindergarten class will be at the school this week due to the TTOC.
Wednesday – At the school.
Thursday – At the school. Library book exchange. Remembrance Day Assembly at 9:00 AM in the gym. Our class is singing a song "Peace Like a River" with the other LEAP classes. Students should arrive dressed in either a white or black shirt if possible. Poppy stickers or pins will be provided. Parents are welcome to attend.
Friday – Remembrance Day. No school.