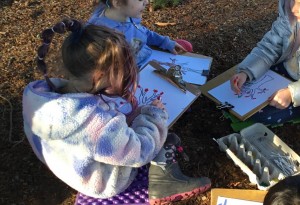 Kindergartens painting 'en plein air' with their crazy hair! We also enjoyed the sunny, frosty days at the park. Students took photos of the beauty they saw in the ice and played with their twig people.
The week at a glance: Nov. 21-25
Monday – at the park. Salmon Forest program with LEPS. Please pay $4 online.
Tuesday – at the park. More salmon activities.
Wednesday – at FLE. Donut day.
Thursday – at FLE. Library book exchange.
Friday – at the park.
Looking ahead: Save a recycled container or two to make a boat next week. We'll have a marshmallow roast on one of our last days. Friday will be at the school.