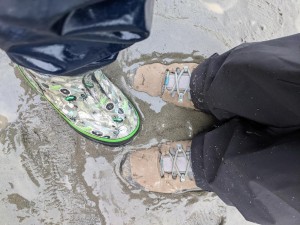 It was a "feet-on" learning experience at the beach as students investigated what makes some sand 'quicksand' and some not.
Movember event: Langley Environmental Partners Society is inviting the community to come out for a Movember ivy pull event in the spirit of mental well-being (for men and everyone else, too!). Saturday and Sunday, Nov. 26-27, 10AM-12PM at Steele Park. Fundraising Info
The week ahead: Nov. 28-Dec. 2
Monday – Campfire and boat creation day! Please send materials either pre-assembled or ready to assemble into a boat with minimal help. Help your child plan ahead for a successful project: it should have a string attachment for pulling the boat, be waterproof and stable. Teachers will provide marshmallows and we will carve roasting sticks as a class activity.
Tuesday – We're keeping an eye on the snowy forecast but hoping for a last day at the park.
Wednesday – at FLE.
Thursday – at FLE. Fun lunch and Library book exchange. Jersey Day!
Friday – at FLE.