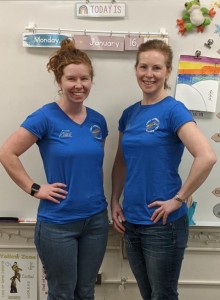 Twin Day! My 'twin sister' Ms. Hawley and I had fun dressing alike.
Last week we explored the Fort and listened to a story about the sturgeon, a species at risk in the Fraser River. Some of our explorers even found GOLD! We also became Waste Warriors, by learning how to sort our garbage using the 3 R's. The week ahead will include learning about local community places like the goat farm, the parks, the Fraser River, and the Kwantlen community. We begin learning about cultural celebrations in our community like Lunar New Year in fun ways like an Asian Restaurant play centre, Chinese character printing centre, dragon puppet craft and lion dance parade. Welcome the Year of the Rabbit!
The week at a glance: January 16-20
Monday – Begin and end at FLE. Community Walk to the goat farm.
Tuesday – Begin at Kwantlen Cultural Centre, end at Brae Island.
Wednesday – At FLE. Tap Co. dance performance.
Thursday – At FLE. Library and Home Reading book exchange.
Friday – At FLE. Lunar New Year celebrations in our class.