The taste of winter we had last week led to new ways of learning and playing. We loved noticing the frost crystals growing out of the earth, building and sliding with the snow, and using snow as a material for playing games. We also worked with our big buddies on transforming materials to create toy animal habitats, we learned about the cedar tree's many uses, including baskets and tea. We combined literacy and movement in the storywalk "The Gruffalo" and created fun masks for creative play.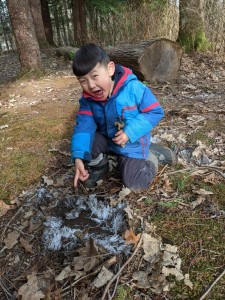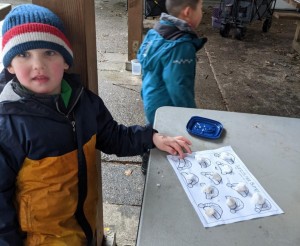 The week ahead: February 6-10
Monday – at the park. Learning includes outdoor literacy stations, ways to make ten, and wonder journals.
Tuesday – at the park. LEAP Information Night at 5:30pm in the school gym. For families interested in grades 1-4 who have not yet attended an info session.
Wednesday – At FLE. Earthquake Drill. Please return all permission forms for Skating and Honeybee Centre. School Cash Online is available for payment. Please see me if you missed any of the forms sent last week: Honeybee Centre, Skating, Giants game, FLE Fun Night
Thursday – At FLE. Book exchanges. Fun Lunch.
Friday – No school for students. Professional Development Day. I will be working on writing instruction and Indigenous ways of learning.