Who is that masked unicorn?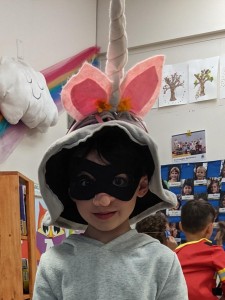 We had a lovely time at the beach. Most exciting finds were crabs, sculpins and a moon jellyfish!
The week ahead: June 5-9
Outdoors at the park and the school garden this week, we're doing a bioblitz – an activity to find and list all the living things in an area. Students will take photos with the class iPads, use checklists and pamphlets to ID our observations, then journal and create art about what we found. This activity is part of the David Suzuki Foundation Butterflies in my Backyard Schools project.
Monday – at the park. We welcome a student teacher for the next 3 weeks. Parent Appreciation event – come by the shelter at the end of the day for a treat!
Tuesday – at the park. Drop off on the right side of the washrooms building, pick up at the usual shelter location.
Wednesday – at FLE. BOGO Book Fair is open limited hours (see PAC email). We will not be visiting during class time.
Thursday – Dress like an '-er' day. A day to think about roles in our community and dress up! Popcorn Day.
Friday – at FLE. Kindergarten buddy classes will spend the day together. In the morning, we'll have a Teddy Bear Picnic and do fun learning activities with a stuffed animal they can bring from home. In the afternoon, we'll watch "Oopsie", a Vancouver Children's Festival Virtual performance about overcoming challenges and learning from mistakes.