Our snowy outdoor days were a lot of fun last week! Then we finished off the week with our first skating lesson and Family Fun Night! I hope everyone who was able to go enjoyed it. Kudos to all the parent volunteers for both those events on Friday.
*Please fill in the survey form sent by email last week. It is very important for LEAP teachers and Admin to know who is returning next year. Thank you!
The week ahead: March 6-10
Monday – At the park
Tuesday – At the park. BBQ lunch.
Wednesday – At FLE. Early Dismissal for Student-led Conferences @ 1:08.
Thursday – At FLE. Early Dismissal for Student-led Conferences @ 1:08.
Friday – Skating @ 8:20-11:30. Bus back to FLE for Fun Lunch. Remember snow pants and gloves. Big winter coats not necessary – kids were sweaty hot but need the cushioning on the knees, bums and hands! School Spirit Theme: Inside Out or Backwards Day
The kids might like more of the white stuff, but I am ready for spring!
We'll finish off the week before Spring Break with a StoryWalk activity, journaling our favourite things about Williams Park, and a BBQ lunch on Tuesday!
If you signed up to bring something, THANK YOU! Here's a picture of the sign up sheet in case you forgot. Please label and put the food inside the shelter when you arrive. Should be cool enough to not need ice packs (Unfortunately, ha ha). No one has yet signed up to come help prepare and serve the lunch.  Send me an email if you are able to help from 11:45 to 12:45. We would really appreciate it.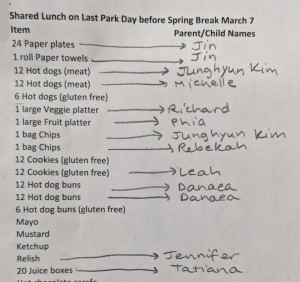 Have a wonderful Spring Break!!