Highlights of the week:
Our first week at Ponder Park was a success! I think we have worked out new boundaries and routines for eating, learning and play so next week should be even better. We also learned a lot about salmon, their life cycle and habitat. We will check the creek after the rains to see if any spawners have returned. That would be so exciting to see!
The students did so well reciting the poem in our Remembrance Day Assembly. I felt very proud of their effort and respectful behaviour in such an important assembly.
Please let me know if any of you have connections to military veterans in the local area. We completed our Postcards for Peace activity and I am now seeking some veterans to mail them to.
Next week at a glance:
Our theme for outdoor exploration this week is fungi. A sure sign of fall is when we can find a variety of mushrooms in the forest!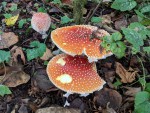 Monday – no school, Remembrance Day
Tuesday – at the park
Wednesday – at the park
Thursday – library
Friday – Family Reading, Hot lunch