June 6
What do you wonder about dragonflies?
Send your questions to Mrs. St Pierre and I will pass them along to Jack!
Measuring a salamander tadpole:
The tadpoles remaining in my aquarium now measure 2 cm, or about the diameter of a dime.
Their toes are more developed, so they can now walk along the bottom or sides of the tank. How many toes do they have?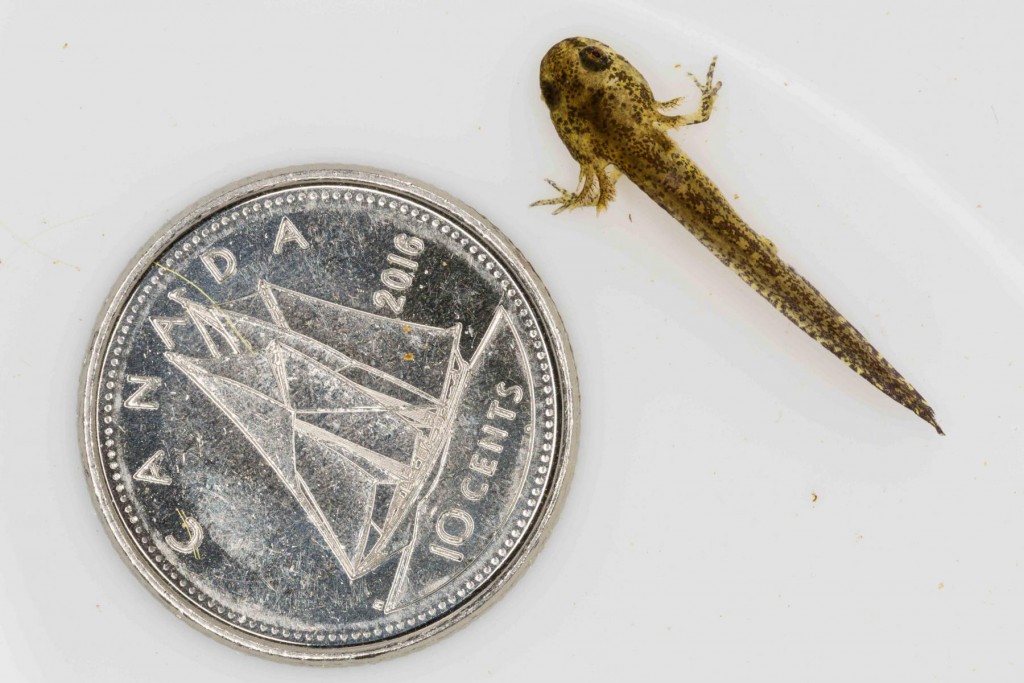 Salamander update:
May 19 –
There were 46 salamanders! Did you guess that many? 40 have now been released into their wetland home on 216 St at 100 Ave. 6 are still in the tank. They look the same as last week, just a little bigger, with more room to swim and hunt for food.
May 9 – The salamander egg mass is now empty. Can you count how many green egg sacs there are inside the jelly mass? How many salamanders do you think hatched?
The salamanders are very active this week. Salamanders are cold-blooded, like all amphibians. When the temperature warms up, they can move their bodies fast. When the temperature is cold, they move slowly.
What changes can you see this week in their body? Front legs! Their tank is also full of tiny insects and micro-organisms for them to eat and two pond snails to clean the algae from the glass.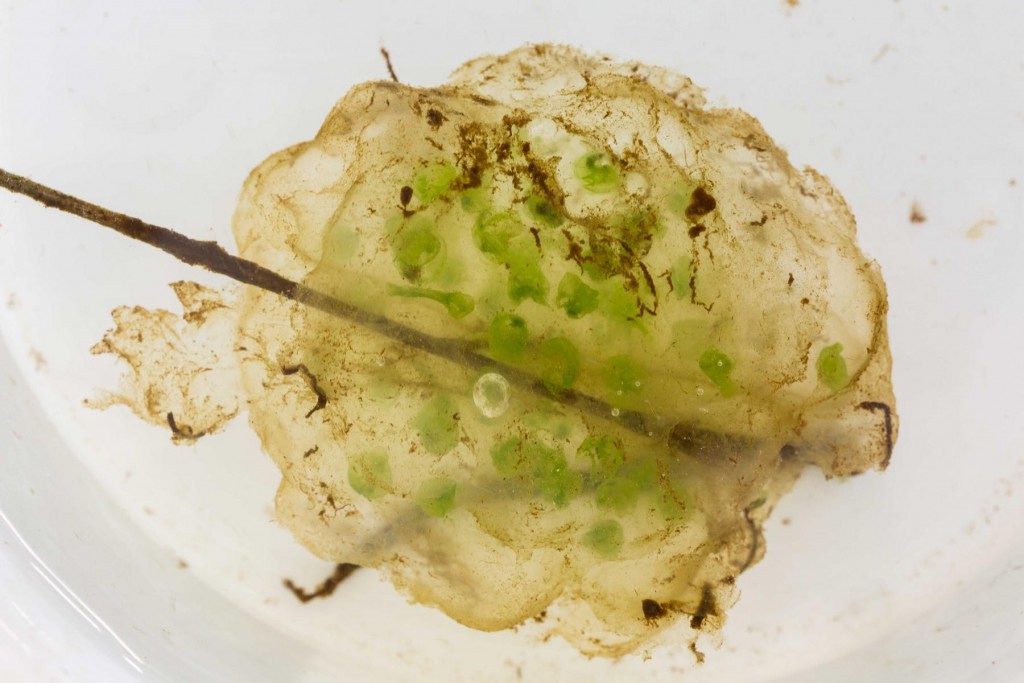 Our eggs hatched on April 28! Here is what the babies look like close up. They are salamander larvae. About 10 have hatched so far.
Can you see their gills? They use those branches to collect oxygen in the water to 'breathe'. Fish and frog tadpoles have gills inside their head.
Can you see their legs? They don't have any! (Yet)
They have a lot of freckles and speckles. This helps them camouflage in their pond. They are really impossible to see unless they move.
They eat micro-organisms (very small bugs in the water that we can't see)
I give them fresh pond water once a week and oxygen with a 'bubbler' in the tank. They like to hide next to the bubbler.
Here are two close up (Macro-photography) photos of the eggs taken on April 24.
Here are your guesses from last week:
Frog tadpoles: 7 guesses
Salmon: 1 guess
Turtle: 1 guess
I think they are salamander tadpoles. Here is why:
The eggs are laid in a clump the size of a baseball around a stem or stick in a pond.
The tadpoles are growing feathery gills on the outside of their head.
I collected these eggs on April 12 from a nearby wetland ditch.
What kind of eggs do you think they are?
When do you think they will hatch?
How should I take care of them?
Gardening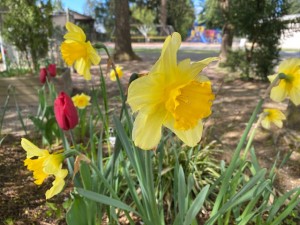 May 1 – My celery has a very tiny sprout! My chickpeas went moldy. What did you sprout? The school garden looks beautiful with the tulips and daffodils we planted in the fall. Can you make a flower art project using this picture as inspiration?
Spuds in Tubs
Both tubs of spuds have grown a lot!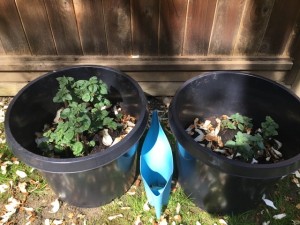 Can you see how they've grown?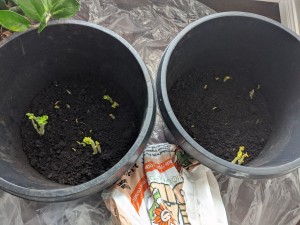 May 1
April 24
April 16
April 3
Update on Ms Blair's salmon: Ms Blair released her classroom salmon into the Nicomekl River in Langley! They are at the fry stage now. They will stay in the creek for a year and then swim downstream to go to the ocean.